Kroger, Publix and Winn Dixie are some of the most popular grocery stores in the South. They always announce new deals in these weekly ads. Here are the most important grocery and household deals from these supermarkets. You can browse all the new deals. Kroger Weekly Ad Jan 11 – 17 contains new digital coupons and the mix & match sale. Publix has a special sale for supporting Special Olympics. You can buy a torch at checkout to support the event.
Kroger Weekly Ad Jan 11 – 17, 2023
Make use of new digital coupons and mix & match sale. Kroger also sells storage items which are popular products in post Christmas and New Year celebration time of the year. Early January can also be the time to decide how you wanna improve your life emotionally. Health and organic foods can be a start. It might not be feasible to buy organic products all the time since they are expensive but you can make an exception every two weeks.
Publix Weekly Ad Jan 11 – 17, 2023
Publix always offers premium quality foods in these ads. This is another new sale with BOGO-free deals and price drops. You can buy cake slices, hot chicken tenders, red potatoes, sirloin tip roast, and more products at lower costs.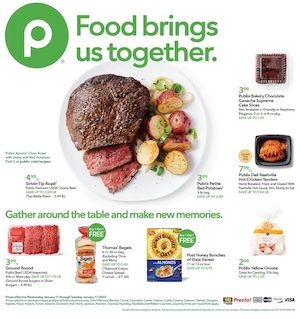 More products are featured offers of Weekly Ads Grocery Deals Jan 11 – 17, 2023 from these brands. Also, wait for the new Winn Dixie Ad for some great deals for the week.
Winn Dixie Weekly Ad Jan 11 – 17, 2023
Check out the $20 off $50 & free delivery deal on the first page of the Winn Dixie Ad. They have new grocery and BOGO deals. Also the weekend sale is a huge catch. They sell burgers, steak, avocados, butter sticks, and more items.
Harris Teeter Weekly Ad Jan 11 – 17, 2023
Get more fuel points, save more with e-Vic 4 day sale at Harris Teeter. One of the best ads from South can be seen today. Check out all the latest Harris Teeter Ads.