Buy the best fruits from the organic aisle of Kroger supermarket this week. You can use the 1-hour delivery service of Kroger to shop your grocery and track the deals via Kroger ad. One of the first things to notice in the new weekly ad is the mix & match sale. With this deal, you will be able to save $3 on 6 products. Most of these products seem to be focused on special needs but you can also find snacks and some juice variety. Jif peanut butter, Capri Sun, Club Crackers, and Kraft Macaroni are a few of the participating products. Browse the whole Kroger Weekly Ad Deals Jan 15 – 21 range today.
Buy 6 Save $3:
Digital deals for Jan 17 – 18 only!
Natural and Organic Food With 5x Digital Coupon Event
Since last week, one of the highlighted categories in Kroger Weekly Ad has been the natural & organic foods. 5x digital coupon event covers these organic products. We can say that there is a tendency shifting the interest of customers towards organic products. That's natural because natural products are tastier. Kroger Simple Truth organic products will be a good guide if you want to live with organic foods.
Kroger Meat Sale
You should see a small part of this ad where you can find BOGO deals on meat products. Beef, sausages, and more products are nice options for everybody looking for a good deal on meat products. There are multiple-buy deals, too. See Kroger meat offers:
Kroger Fresh Deals and Grocery
Fresh deals are also important savings you should beware of every week on Kroger Ads. You can find both kinds; packaged fresh products and organic foods. Seafood, meat, chicken, and 4x fuel points are also available in this category. As you might already know, Super Bowl will take place soon. If you like to watch that game with some delicious foods or snacks, you might as well do it saving some. Check out pg 5 for these products from Kroger game snack sale.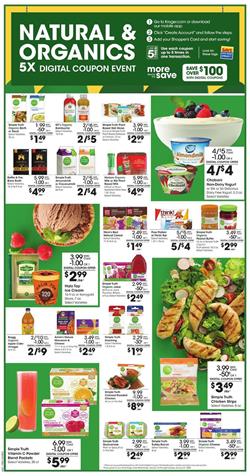 Frozen food:
General Grocery Products:
Kroger Game Snacks and Frozen Pizza:
Fresh Deals and some organic food prices:
Kroger Game Sale and Candies
Moreover, you buy board games for 25% off nowadays at Kroger stores. Games like Jenga, Guess Who?, Sorry! are available on the final page of the latest Kroger Ad. Don't forget to see all Kroger Weekly Ad Deals Jan 15 – 21, 2020.
Get more details here. Also, subscribe to the newsletter for free and start getting emails about these deals.