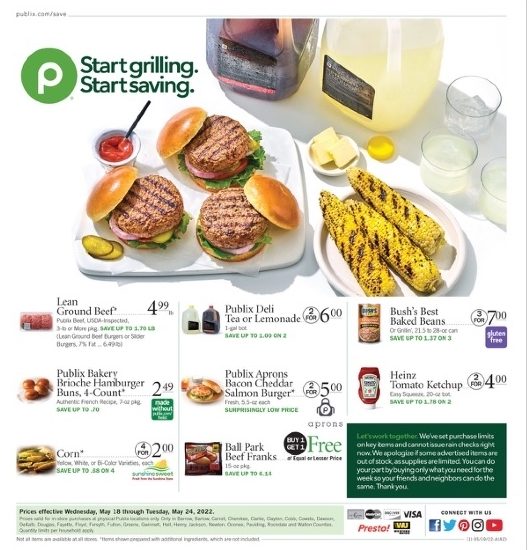 Share & Subscribe
( Be first to rate this Publix Weekly Ad )
It is grilling time of the year. Fire up the grill and make some burgers this month. In fact, this week might be perfect since Publix has awesome deals on basic things you will need. You have deals like ground beef, tea, lemonade, baked beans, and more products starting from the first page of the ad. And it doesn't end there. First two pages of the ad are about grilling products, meat, and more delicious foods one would expect to see in a grilling party. If you have no interest in that, perhaps you will like the fresh sections of the ad. You can see products like salmon cuts, BBQ sauce, chicken breast, lobster tails, and more products that are available in the meat and seafood category.
Publix BOGO Free Sale May 18 - 24
Browse the latest BOGO deals on general grocery items. Products like Quaker oats, Entenmann's donuts, Planters peanuts, and more are gonna be participating in the BOGO sale. Moreover, they have nonfood and personal care products with BOGO deals, too. Explore these offers in Publix Weekly Ad May 18 - 24, 2022:
Check out deals of household and cleaning supplies, personal care, and more grocery items in this Publix Weekly Ad May 18 - 24, 2022 issue.