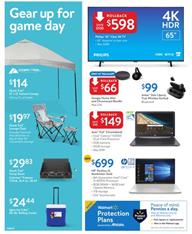 Philips 65″ Class 4K TV is one of the modern TVs that you can play movies via Netflix, HBO or other platforms. The smart TV is powerful enough to run many modern apps including Youtube. 4K resolution is an important feature if you are a gamer since Playstaton Pro have a 4K output. Many games are now made on 4K. Blu-Ray movies look more realistic than Full HD and you can do many other things like playing the video on your phone and watching it on TV at the same time. Some products from the electronics sale are exclusive to Walmart. Google Home Mini is one of the products that are only at Walmart.
iPhone 6, iPhone SE and more mobile products can also be found at Walmart Ad on pg 15. Walmart ebooks are promoted with eBook or Audiobook $10 off sale. You can have access to 6 million titles with this product.
Clothing, school products, home products, deli, food, grocery and more are also categories to be found in this Walmart Ad. Valid until September 15. Follow our Facebook page where we share the updates.